Directions
The Great Taste of the Midwest is held each year in Madison's Olin Park, which overlooks beautiful Lake Monona and offers a wonderful view of downtown Madison. Click HERE for directions.
Please note that there is NO PARKING at Olin Park.
Access for public vehicles on the day of the festival is strictly managed in order to maintain clear access for essential event vehicle traffic, shuttle and cab service, and emergency vehicles.
---
Transportation
The Madison Homebrewers and Tasters Guild holds the safety of our patrons first and foremost in our minds.
As such, we provide several free or inexpensive ways to get home safely and we also encourage our patrons to make use of Madison Metro Transit buses. We ask for your cooperation in making the Great Taste a non-driving event. Take a Metro bus, a $5 taxi, or a free shuttle home.
Drop-Off & Pick-Up Area
In order to ensure more orderly and safe arrivals and departures, there are traffic management procedures in place. The designated drop-off area is along Sayle St and Van Deusen St as shown in the map below.
Olin Park will be off limits to all non-event vehicles, which includes drop offs before and pick-ups after the event. If you have a designated driver or are using a rideshare service (Uber, Lyft, etc) who will be transporting you in either direction, you will need to take notice of this. We're asking everyone to respect this as it will be enforced by the Madison Police Department.
We want to make MPD's day go just as well as ours so we've arranged for a designated Pick-up and Drop-off Area that is outside of the park but convenient for walking to the park safely.
We have a very handy map that shows you where this is and how to walk to the park via the bike path that goes underneath John Nolen Drive. (no busy streets to cross!)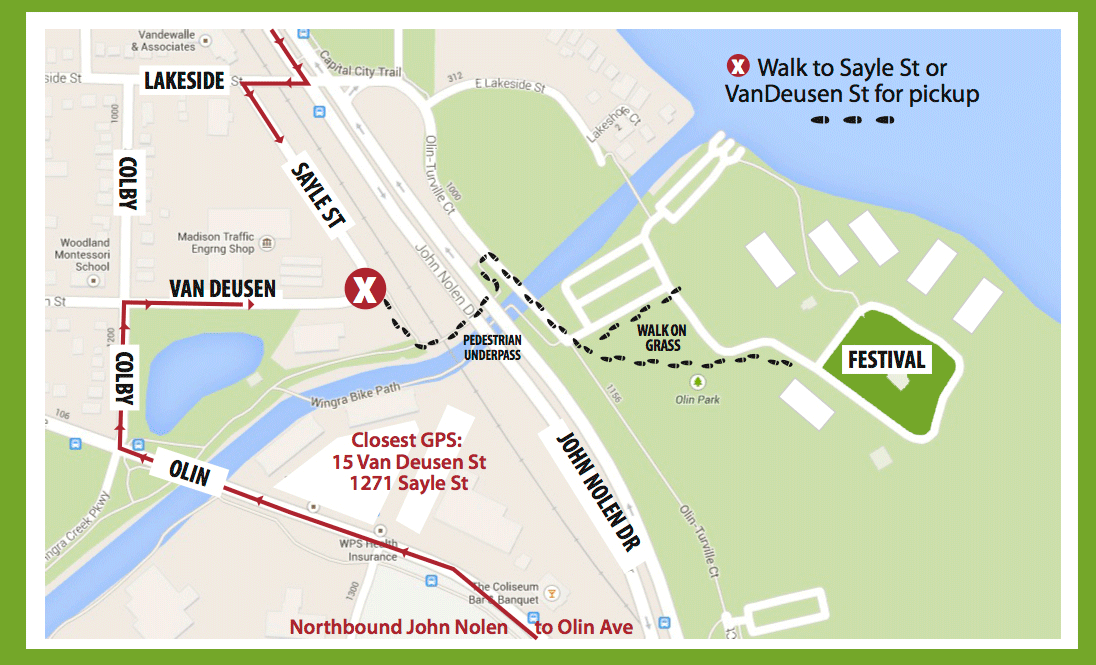 Check out this convenient Google map if you need more detail
Madison Metro Buses
One-way fare: $2.00 each way
One-Day Pass: $5.00 (good for an unlimited number of rides per day)
Weekend "2-4-6" pass: $6.00 -pass allows two adults to ride all day long. Just tell the driver you'd like a 2-4-6 pass, deposit $6, and receive your pass.
GETTING THERE
On the weekends, Olin Park is served by Madison Metro bus Route O.
Starting from downtown Madison, make your way toward North Brooks and West Johnson to board Route O.
Departures from N Brooks and W Johnson are at 59 minutes after each hour. Get off the bus when you arrive at John Nolen Drive & East Olin Avenue across the road from the park entrance.
AFTER THE FESTIVAL
The safest option is to walk from Olin Park toward East Olin Avenue & Colby Street via the Wingra Bike Path, which takes you underneath John Nolen Drive.
The bus stop you'll need is for Route O toward South Transfer Point.
Departures from here begin at 6:09 p.m. and are every hour.
Shuttles
Coming to the festival with a full belly of food from one of our shuttle stops is an excellent way to prepare for a day of beer sampling.
Shuttle buses begin operating from each site to Olin Park at noon. The festival grounds open at 1 p.m.
Shuttles run continuously to and from each site until 7 p.m.
Please consider a small donation to the venues to keep the shuttles running.
Shuttle locations TBD.
Taxis
Union Cab is the official cab company of the Great Taste of the Midwest.
MHTG subsidizes fares home from the festival to any residence or hotel in Dane County.
It only costs you $5 to get home safely in a cab. Please be sure to tip drivers too!
Rideshare Companies
Uber, Lyft, and other rideshare companies are considered non-event vehicles and will not be allowed access to Olin Park or the taxi stand.
If you intend to use one of these services before or after the event, please use the drop-off and pick-up points at Sayle St or VanDeusen St.
Parking
There is absolutely no patron parking at the festival as this is a non-driving event.
Parking is available at the many downtown area parking ramps.
The maximum charge for parking in one of the ramps is $5 per day on weekends, which makes this a great option for leaving your car until Sunday morning.
See the city parking website for more information and applicable hours.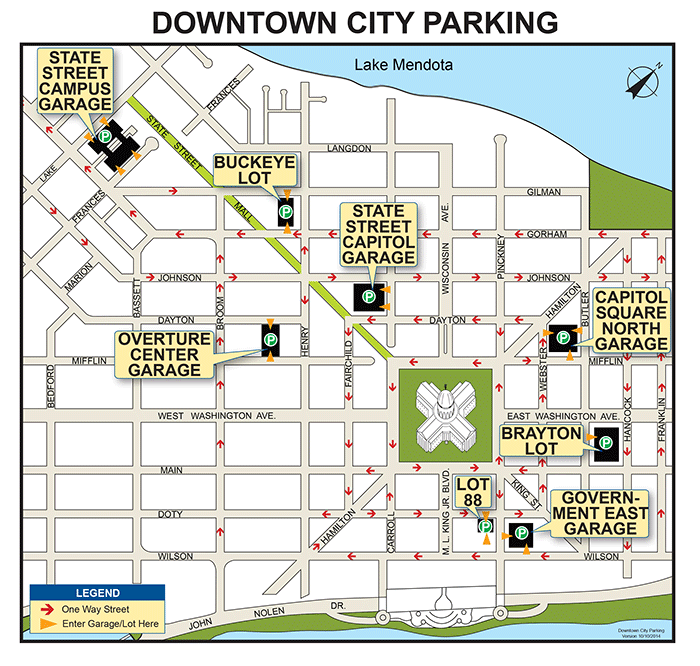 Bicycles
You are strongly discouraged from riding your bicycle to and from a beer festival. We ask all patrons to avoid bringing wheels of any kind in order to ensure the safety of everyone.
While they also discourage you from riding your bicycle after attending the Great Taste, the Madison Police Department, City of Madison, and the Madison Parks Department have requested that we provide bicycle racks near Olin Park. They are there to protect the sensitive trees and structures in and near the park. Any bikes locked to trees or public property will be removed.
For the safety of your bicycle, this beautiful park, and most importantly yourself, please use one of the other transportation options available.
If you must use a bicycle, please consider biking to one of the FREE shuttle sites closest to your home, locking your bike there, and taking the FREE shuttle to the park.
Wisconsin Tavern League Saferide Program
The Tavern League of Wisconsin operates a Saferide program which can be used to get home from area bars and restaurants. You may request a Saferide voucher from any Wisconsin Tavern League member establishment for a free ride home – no questions asked.
---
Lodging
If you're visiting from out of town, the following resources for lodging are provided so that you may enjoy not just the Great Taste but all of the wonderful sightseeing, dining, and activities in and around Madison.
Nearby Hotels
Downtown Hotels
If you want to stay downtown for some easy walking, pre-/post-festival fun then these hotels might be right for you:
Camping
For the campers (with designated drivers) out there:
---
Exploring Madison
If you're from out of town, we hope you take some time to enjoy Madison and the surrounding area.